Unsurprisingly, we're pretty passionate about marketing here at Monochrome—uh, Marketing. But we didn't learn everything we know from simple instinct. While we certainly like to think we have a natural flair for this stuff, the truth is that we've also done a lot of research. That means we've come across more than a few worthwhile marketing books in our time, and now we'd like to share our favourites with you.
Here are 10 marketing books we consider absolutely essential for business owners, whether you're running a startup or a simple sole proprietorship. Browse titles, soak up key takeaways, and learn where you can pick up these vital resources. We're confident they'll do for you what they've done for us.
See also: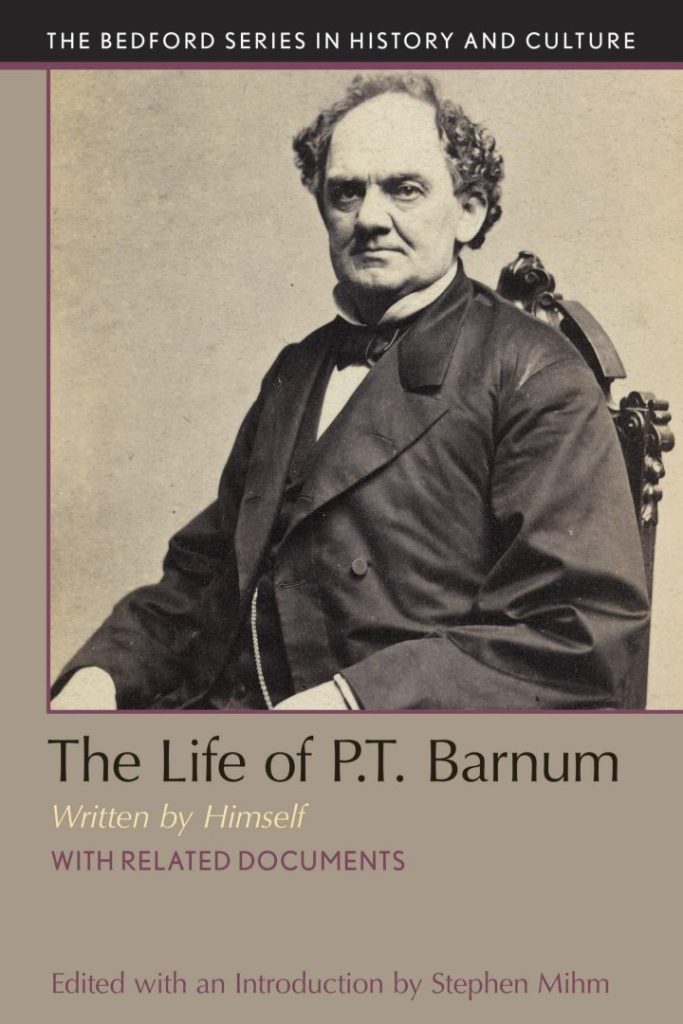 Via Amazon
#10: The Life of P.T. Barnum
Author: P.T. Barnum
Price: $19.63
Where to Buy: Amazon
Why It's Great:
Okay, just hear us out. Yes, the notorious showman and co-founder of the Barnum & Bailey Circus lived and died nearly a century before the internet, but his story might be one of the greatest case studies ever written about gaining and holding other people's attention. Not just any people, either—Barnum was known all over the world, to royalty and ragamuffins alike. Clearly, he knew something most business leaders would kill to learn. But wouldn't it just be easier to read his book?
Key Takeaways
How to establish and develop a reputation that serves your goals (your public persona can be just as important as your products or services)
A customer is born every minute—and thinking beyond your local market gets you access to more of them
Interesting and unique stories can create natural and ongoing PR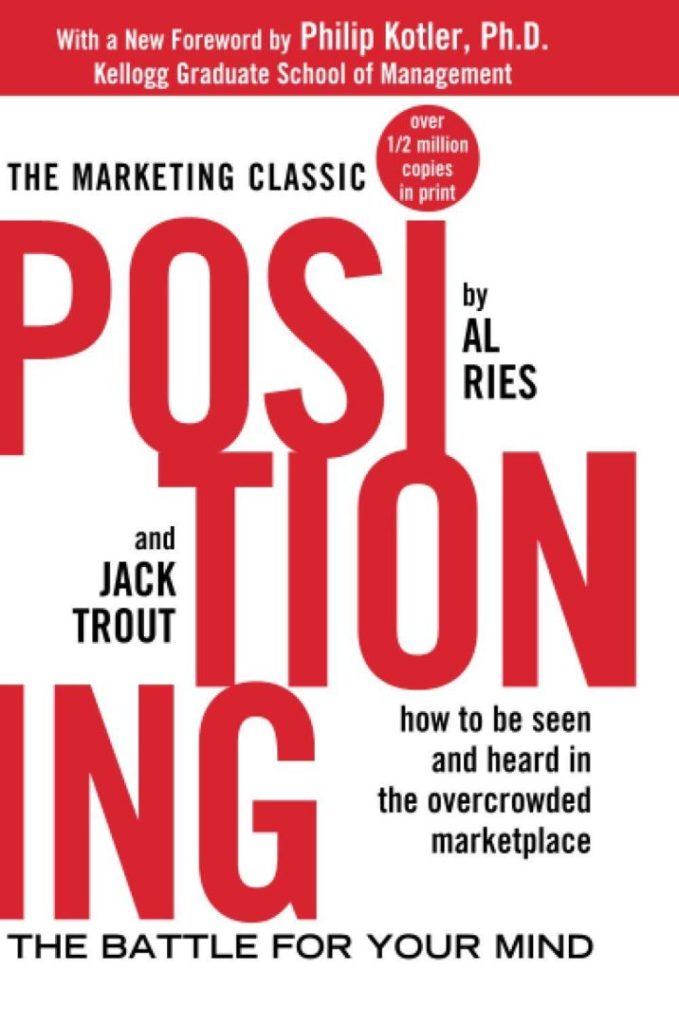 Via Amazon
#9: Positioning: The Battle for Your Mind
Authors: Al Ries and Jack Trout
Price: $25.95
Where to Buy: Amazon
Why It's Great:
Named as the single best marketing book of all time by Advertising Age, this one's definitely a classic. It focuses on how to reach people in an age where everyone is skeptical and saturated by exposure to mass media. By carving out a "position" for your business in the minds of prospective customers, you'll learn how to truly set yourself apart from your competitors.
Key Takeaways
Learn how to make your message stick in the collective subconscious of your market
Building your strategy around your competitor's weaknesses is one of the most effective ways to set yourself up as a better alternative
Consistent analysis of trends helps you stay aware of your position as market conditions change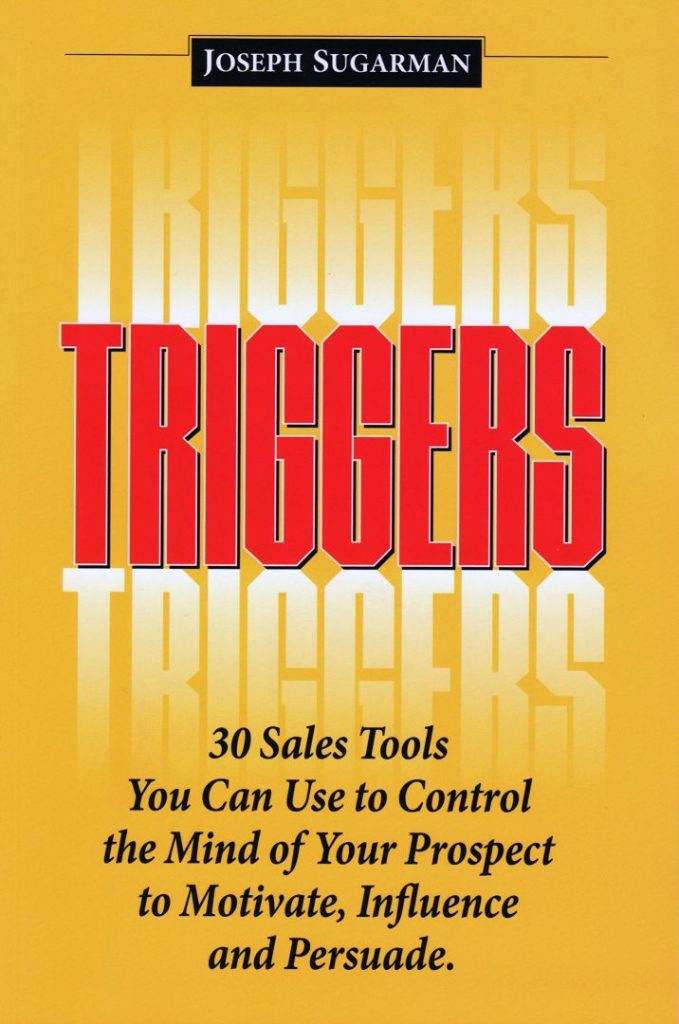 Via Amazon
#8: Triggers
Author: Joseph Sugarman
Price: $5.01 (Kindle Edition)
Where to Buy: Amazon
Why It's Great:
We put the Kindle price up for this one because print copies are hard to find (read: expensive)—but it's worth reading in any form. Joseph Sugarman famously ran direct marketing seminars in the 70s and 80s for a select number of participants, which included a discussion of 30 psychological triggers that can be used to motivate, influence, and persuade others. This book (as the title might suggest) is an in-depth explanation of all 30.
Key Takeaways
The most important thing you can do to encourage someone to buy something is make it easy for them
Bringing out an objection at an early point in the sales process and then finding a resolution is a surefire way to increase a potential customer's confidence
Whatever other sales and marketing tactics you use, it's vital to stay honest with your customers at all times
Via Amazon
#7: The Thank You Economy
Author: Gary Vaynerchuk
Price: $17.99 (Kindle Edition)
Where to Buy: Amazon
Why It's Great:
Gary Vaynerchuk was bound to make it onto this list, but at first we weren't sure whether to include this book or Crushing It, his dedicated guide to social media marketing. In the end, The Thank You Economy won a place here for its insights into how directly engaging with your audience can help you scale for growth faster and more effectively.
Key Takeaways
Listening to and appreciating customers is more important than ever in the digital age
Authenticity, originality, creativity, and honorable intent are worth more than even the largest marketing budget
The companies that see the biggest returns in our era won't be the ones who can spend the most—they'll be the ones who can prove they care the most about their customers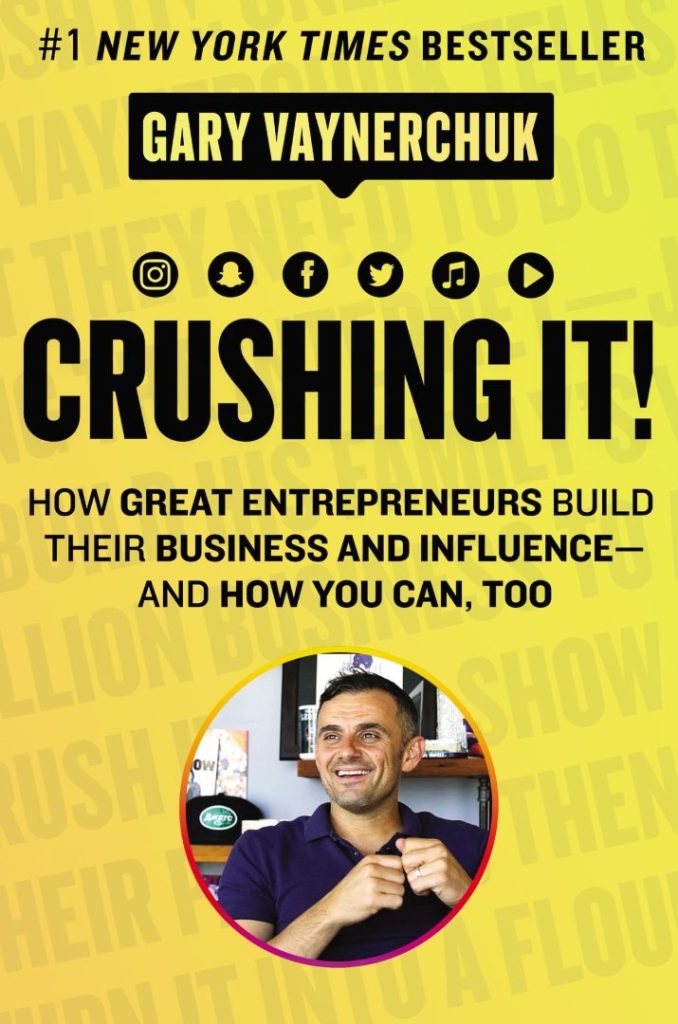 Via Amazon
#6: Crushing It
Author: Gary Vaynerchuk
Price: 18.99 (Kindle Edition)
Where to Buy: Amazon
Why It's Great:
Okay, we lied—the choice between this book and The Thank You Economy was so tough to make that we included both. Yes, the focus here is certainly on social media, but Vaynerchuk's argument is that while the technology is relatively new, the principles that make it an effective marketing tool have always existed, and that you can build an extraordinary personal (or company-wide) brand by following them.
Key Takeaways
Having a vibrant personal brand is key to success as an entrepreneur
Any major social media platform can be used to help establish an extraordinary personal brand when you understand how it works
Establishing your personal brand won't just make you better off financially—it will help you live life on your own terms and consistently make choices you're proud of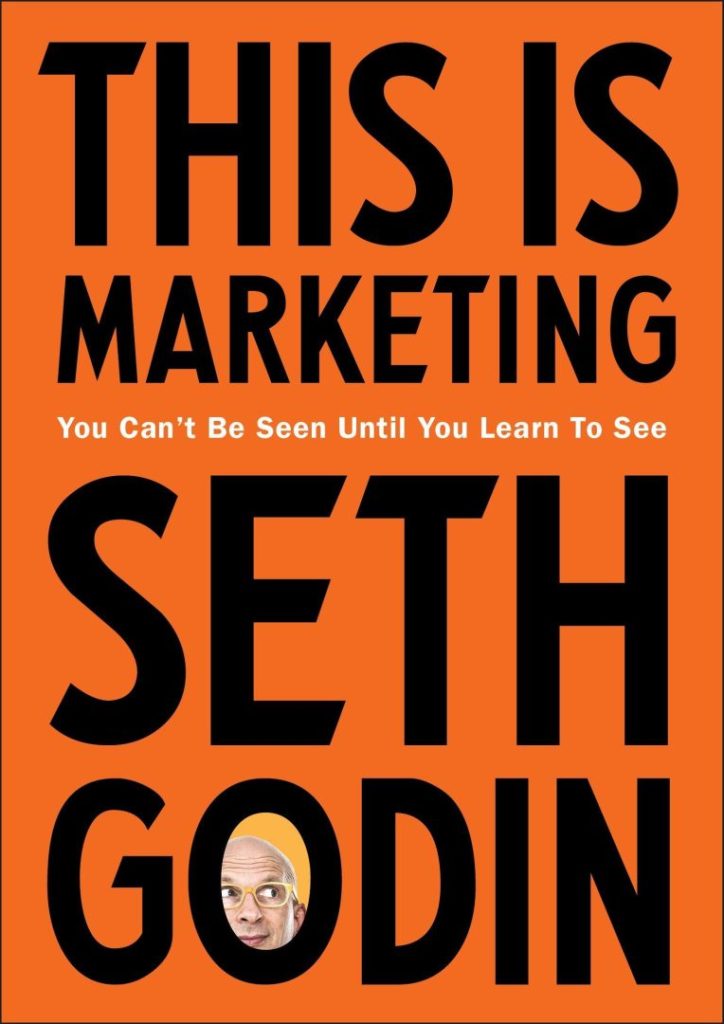 Via Amazon
#5: This Is Marketing: You Can't Be Seen Until You Learn to See
Author: Seth Godin
Price: $32.00
Where to Buy: Amazon
Why It's Great:
Seth Godin is kind of a marketing legend (not to mention a New York Times bestselling author, successful blogger, and popular online lecturer). This compact guide to his most salient points is a resource no marketer should be without.
Key Takeaways
Don't use consumers to solve your company's problem; use marketing to solve other people's problems
Empathy, genuine connection, and emotional investment are worth much more than email funnels and loud ads
At its core, marketing is about the stories we tell ourselves regarding our social status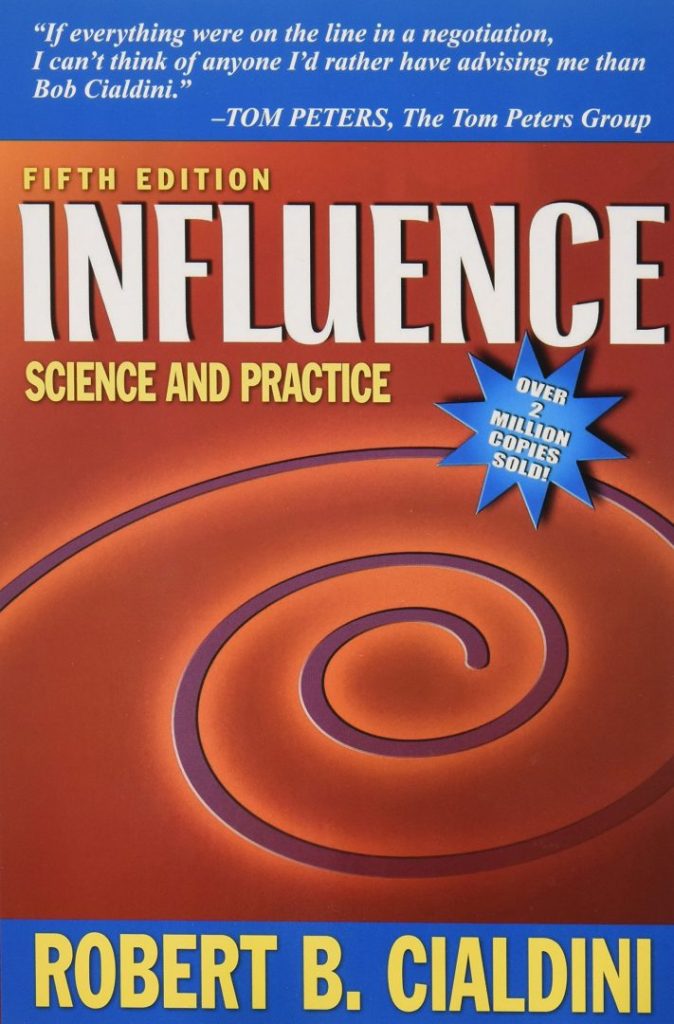 Via Amazon
#4: Influence: Science & Practice
Author: Robert Cialdini
Price: $54.63
Where to Buy: Amazon
Why It's Great:
There's an entire psychology behind compliance, says Robert Cialdini—and he should know. As a former salesperson, fundraiser, advertiser, and more, Cialdini has had tons of firsthand experience working in areas where it's vital to make people say "yes" (and hey, we said yes to his book, so I guess he's onto something).
Key Takeaways
Compliance can be achieved by leveraging any of six psychological principles that direct human behavior
These six principles are: reciprocation, consistency, social proof, liking, authority, and scarcity
Requests that have strong reasons attached to them have a much greater success rate than those that don't
Via Amazon
#3: Building a StoryBrand: Craft Your Message So Customers Will Listen
Author: Donald Miller
Price: $24.99
Where to Buy: Amazon
Why It's Great:
New York Times Bestselling Author Donald Miller's thesis here might seem radical: that marketing isn't primarily about advertising; it's about storytelling. Without a clear and consistent message, Miller argues that even companies with intrinsically-valuable products and services will struggle to connect with their audiences. But by harnessing seven universal elements of powerful stories, he shows you how you can engage your customers in truly meaningful ways and gain an important edge on your competitors.
Key Takeaways
It's essential to simplify your brand's message so people understand it
There are seven elements all truly powerful stories have in common
Using these elements effectively helps create a compelling narrative that motivates people to buy what you're selling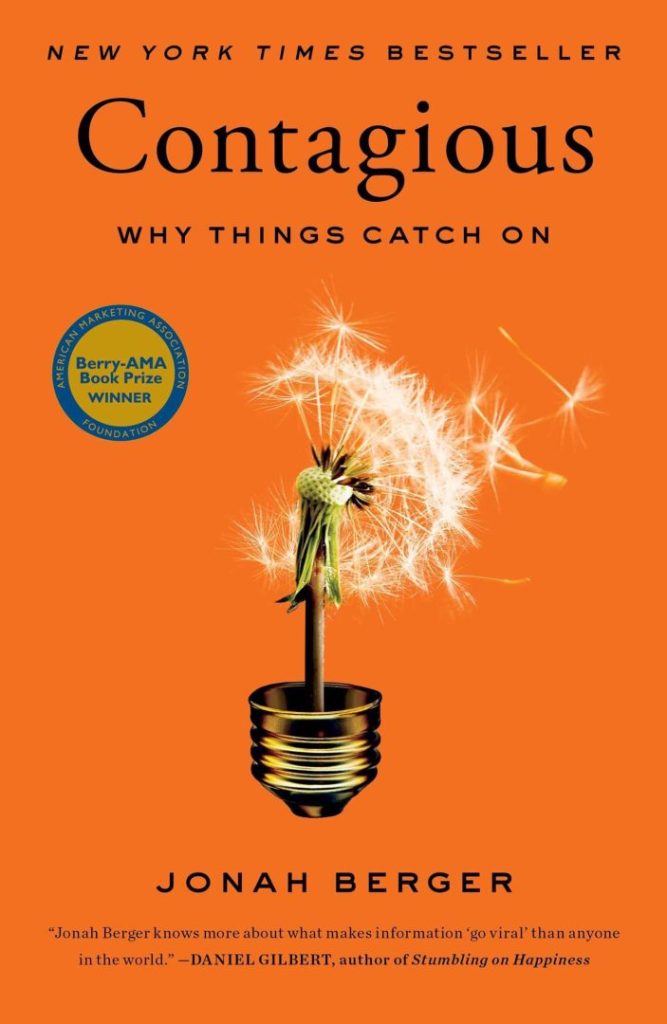 Via Amazon
#2: Contagious: Why Things Catch On
Author: Jonah Berger
Price: $23.00
Where to Buy: Amazon
Why It's Great:
If you've ever wondered why some ideas become popular and others don't, you'll want to check out this New York Times Bestseller. Written by Jonah Berger—a professor of marketing at Wharton—this book focuses on word of mouth and social transmission. The core argument? that organic interest, not advertising, is key to an idea's success.
Key Takeaways
Social influence doesn't just influence what we buy: it also affects our everyday decisions in ways we often don't realize
Shareability is one of the most important qualities a given piece of content can have
Following six basic principles can increase the likelihood of people sharing almost anything—from online videos to consumer products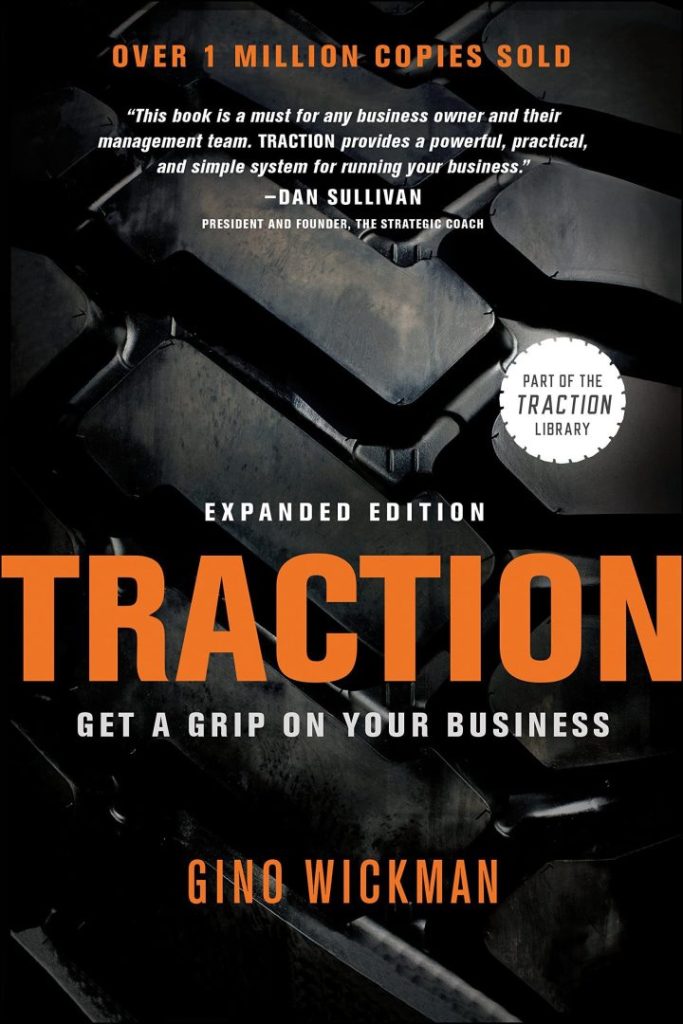 Via Amazon
#1: Traction: Get a Grip on Your Business
Author: Gino Wickman
Price: $22.95
Where to Buy: Amazon
Why It's Great:
This is more than just a marketing book—it's a guide to overhauling any business to make it into an efficient, well-oiled machine. Wickman identifies six areas that make up any business: Vision, People, Data, Issues, Process, and Traction. Throughout the book, he provides a framework for defining and measuring success in each of these areas (the "Entrepreneurial Operating System"), with the end result being a more synchronized and harmonious business that can take full advantage of growth opportunities.
Key Takeaways
Asking hard questions about how your business is organized reveals your best opportunities for growth
Choosing the right metrics to measure data gives you a pulse on your business and helps predict future developments
Documentation via tools like the Level 10 Meeting Agenda or Organizational Checkup creates accountability and leads to more consistent success
Learn More about Marketing Your Business
Reading is cool—but theory can only take you so far. Once you've used the books above to inspire you and provide you with some useful exercises, contact our team. We'll be happy to show you how our decades of combined marketing experience can take you and your business to the next level.