Summary:
Marketing solar products to potential customers is difficult because there's so much conflicting information available. Organic SEO helps you combat misinformation by building a dedicated platform for your messaging.
Many solar installers cast too wide a net and struggle to connect to customers in their region. Focusing on local SEO is the best way to generate leads who can actually take advantage of your services.
Qualifying and educating leads is just as important as generating them. Many potential solar customers don't understand the benefits of solar technology, so these should be front and center on your website and in your content.
Explaining solar's potential return on investment is also vital for installers, since the initial cost of solar technology can cause reluctance among potential customers. Building a cost calculator is an excellent way to show people exactly what solar will help them save.
Even when people are interested in solar technology, they're frequently unsure about the next steps to take. Installers should have a content strategy that leads people through every stage of the buyer's journey and use clear CTAs to inspire decision making.
Conventional wisdom says solar technology should sell itself. It lasts a long time, requires little maintenance, lowers energy costs, and improves property values. But many solar installers still struggle to find and convert customers effectively through their digital marketing. Why?
Most of the solar industry's challenges with reaching customers stem from a tide of misinformation about solar's costs, benefits, and returns—but knowing how to counter that with the right message isn't always easy. Below, we go into detail about 5 of the biggest hurdles that might be holding you back from reaching potential solar customers and helping them make a decision about your products.
#1: Fighting Misinformation
Run a google search for "is solar good or bad" and you'll likely come up with… a diverse group of results. That's because not everyone writing about solar technology has the same agenda—and some parties are politically or financially motivated to produce anti-solar content (for example, a blog on an oil and gas company's website is most likely going to focus on solar's upfront expenses rather than its long-term benefits for homeowners).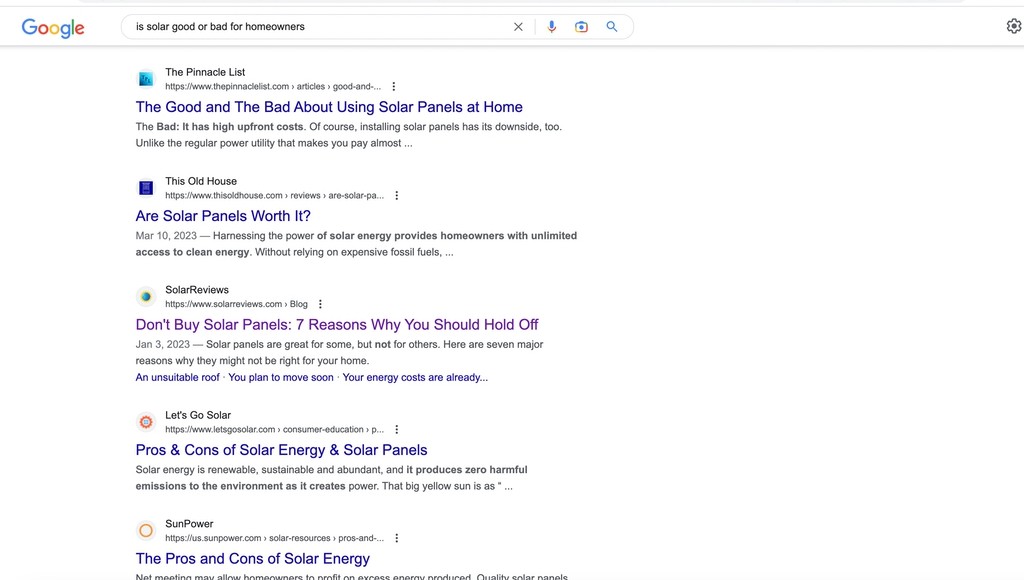 A SERP for the query "is solar good or bad for homeowners". These are the first results underneath the featured snippets—and you can see that there are plenty of conflicting opinions.
In these cases, "fight fire with fire" is actually a decent strategy. You want to produce your own content that explains the tangible benefits of solar technology and builds you a dedicated following over time. Investing in organic SEO is awesome for this kind of brand building, because it gradually establishes you as an authority within the space and connects you with people who are already searching for your products. Read more about the value of SEO for solar installers here.
#2: Reaching Customers in Your Region
Finding leads isn't useful if they aren't close enough to your business to use your services. While targeting an audience outside your region can be useful when you're simply trying to increase traffic to your website and brand-build, you'll want to switch your focus to people within your service area when you're trying to qualify leads and convert them.
You can focus on reaching local customers by:
Creating and optimizing a Google My Business listing
Using local keywords in website content and creating location-specific landing pages
Encouraging and responding to online customer reviews
Developing a content marketing strategy with local keywords and topics
Building backlinks from local websites and directories
Engaging with your local audience on social media
Using local schema markup to highlight where you are and what you do in search engine results pages
#3: Explaining the Benefits of Solar Technology
Building an audience and generating leads are vital to your success, but you also need to qualify and educate those leads if you want them to become solar customers. Unfortunately, many people remain unaware of solar technology's benefits—creating a major obstacle between them and the decision to invest.
Your content marketing strategy needs to make these benefits explicitly clear. Here are a few ideas to include:
Put an FAQ section on your website that answers common questions for would-be customers, like how much value solar panels can add to a property and how long they'll last.
Use blogs to go into detail about the features and advantages of specific solar products you sell, or as how-to guides for maintaining solar panels (and showing how easy it is).
Create infographics and other visual content that provides simple, engaging explanations of how solar technology makes homes more energy efficient.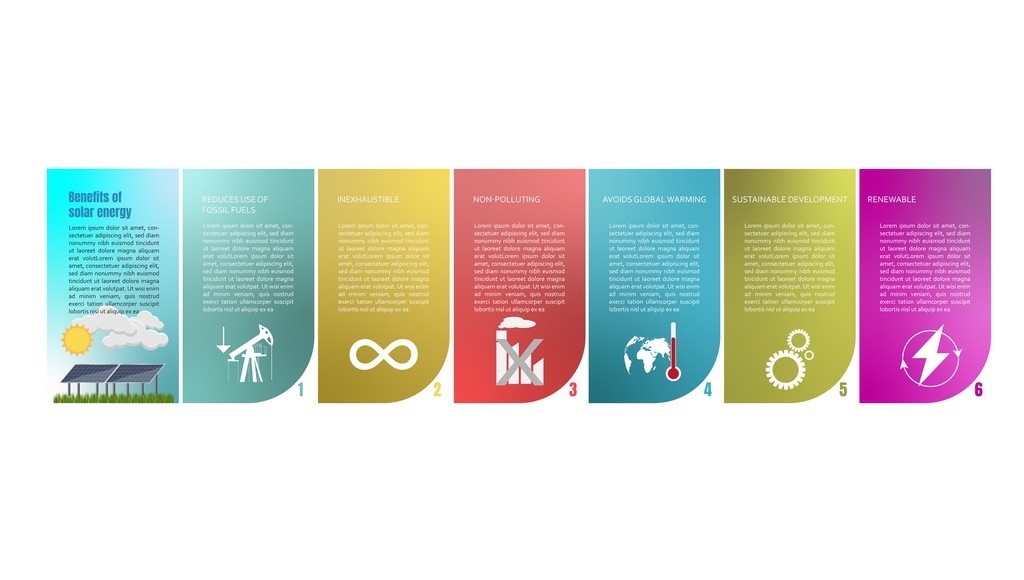 Sample infographic showing benefits of solar technology. Via Adobe Stock.
#4: Showing the ROI
The upfront cost of solar panels remains a sticking point for many people who are on the fence about buying them—so you'll need a way to show them exactly how much money they'll save with your products in the long run. One effective way to do this is by creating a cost calculator on your website.
Build a landing page with a form visitors can fill out with the rate they pay for electricity and their total monthly costs. Design the form so that once this information is entered, the user can see the amount that they'd save each month by adding solar panels to their home, and the length of time it would take these savings to pay off the initial investment. This removes a huge amount of uncertainty from potential customers and makes it easier for them to come to a decision.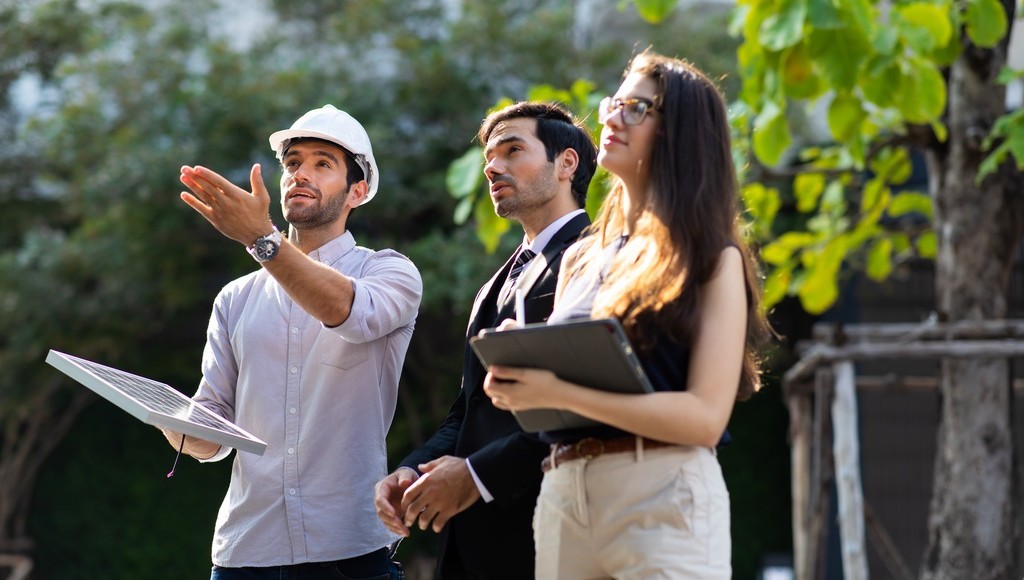 Via Adobe Stock.
#5: Providing Clear Next Steps
Addressing the points above will help make a lot more people interested in solar technology—but even people who might want to become customers aren't always sure about how to move forward, so you'll need to guide them through the buyer's journey one step at a time.
Your content strategy is vital here—create awareness with organic SEO, use your LPs and blogs to help people consider the advantages of your products, and use clear calls to action to facilitate online purchases or consultations with your sales reps.
Learn About our $3K Website, PPC and SEO Bundle for Solar Businesses
Powering Up Your Digital Marketing Efforts
The solar industry's pain points—combating misinformation, reaching local customers, explaining solar's benefits, showing the ROI, and ultimately making sales—are easier to solve when you use the right tools to promote your business online. Building your audience, using local SEO, creating an effective website, and having the right content strategy produces more leads, qualifies them easier, and helps convert them into customers. To keep learning how to make these aspects of your digital marketing work in concert with each other, reach out and speak with a digital marketing expert who can tell you more.
Interested in talking more about best practices for solar business websites and marketing? Connect with Monochrome